WIAW – Some Yumminess This Week
What I'm learning about WIAW is that I like to look at my eating over the course of a week. It's not about the one day snapshot – I do eat mostly well balanced meals. What I noticed this week while putting together this post is that there is usually a weekly indulgent meal. And, that meal lately has included a burger.
I didn't think of myself as that much of a meat eater, but I guess that's what I go for with my 10% eating of whatever I want.
So, here are some healthy eats from this week –

no failures this week

– I shared some of these via

Instagram

during the week.
Top left moving clockwise: 1)sweet potato with pasta sauce and parmesan cheese (so yummy, that might be dinner again tonight) 2) stir fry of Chinese Five Spiced Tofu with green beans (hmm, I have the ingredients for this one too – it was really good too – gotta find a spot for that again) 3) my almond butter and blackberry jam sandwich (I think that has been lunch at least 4 times a week – so easy to pack and so filling) 4) breakfast yesterday –

overnight oats

with fresh mango and an unpictured container of Berry Chobani Champions (again a winner – that's breakfast today, too)
Note to my herbivore friends: look away!
Then back to the 10%.  After heading to

Orange County on Saturday to the race expo

, my burger loving boys and I hit up the Five Guys restaurant.  We don't have one very close to us, but rumor has it that one is planned to be built within walking distance of our house.  We're discussing a rule that we can eat there only if we walk to get there. On the left is MMT's burger with the fries we all shared (can you see his phone out – he

actually took a picture of his burger

!).  He had a double, Dude and I had the single burgers.
FYI – the calorie content information is clearly posted on their menu.  A double cheeseburger clocks in at 840 calories, the single is 550.  Ok, so maybe a mile walk to the restaurant isn't enough.
So, there's my general week in review of food for WIAW.  Thank you to Jen for hosting.  There are tons and tons of yummy eats shared over at

Peas & Crayons

.  Go check it out.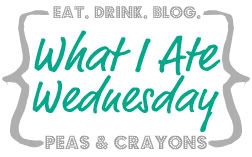 Do you have a usual indulgent meal – your 'go to' yumminess?
I'd probably alternate between the burgers and an awesome pancake breakfast.  Sounds about like the menu I've requested for Mothers' Day.