Tracking Food and Virtual 5K Winners
I've mentioned before that I used Lose It for tracking food and exercise when I was losing weight.  I've been using it again to help me keep things in check.

However, I've also heard about My Fitness Pal and wanted to give that one a try.
Awesome app.  First, it's free.  Second, the food database is huge.  Third – It's even got a barcode scanner!  It's pretty cool to just scan the barcode of the product and all the nutritional information shows up!
But, the best part is the nutrient analysis!  Not only does it give you a daily summary for all the macronutrients (and a few others), but it also includes goals for each and will show you a positive or negative balance.
What I've learned – The app suggests a goal of 30g/day for sugar.  It doesn't differentiate between natural sugar and processed sugar.  For example, I had pineapple and cherries in my morning oatmeal and that was 12g of sugar.  Add in the bbq sauce I had with my lunch of 10 and the 9g from my homemade simple syrup that goes in my coffee and I'm done with my sugar intake by lunch time.  Not good.  For the day, I had 82g.
Because we were at a picnic dinner one night where the food choices weren't so healthy, I ate a really light meal.  When I got home and was still hungry, I took a look at the nutrition for the day and realized I was a little low in carbs,  So, I had some veggie soup.  It was filling and balanced out my day.
Here's a sample of a day (as you can see, I've cut back on sugar a bit since the day I was talking about above – I wish the report separated out 'added sugar').

Although that was a one day analysis, I'll definitely be looking at bigger picture on all of this.  While the scale hasn't shown the progress I think I'm making, I know I'm doing well and I'm feeling better already.
Please take a moment to go visit Jill at Life As I See It – she's hosting the Fitness Friday Blog Hop. Lots of great blogs to visit.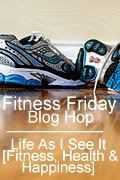 And now for a final wrap up for the Not Over the Hill Virtual 5K.  Thanks again to everyone who participated.  Here are a few more links to some who blogged about their runs.
And finally, I had Random.org pick 4 winners from those who finished their mileage and emailed me their results…Drumroll Please…
Prize #1: Bondiband – Christy – Dirt Road Runner
Prize #2: Road ID – Heather – Not a DIY Life
Prize #3: Pasta & Olive Oil – Jane – Effie Get Skinny
Prize #4: Intuitive Eating Book – Jill – Life as I See It
Congratulations to the winners and to everyone who finished a 5K!!  Winners: please send me an email with your mailing info – carrie at familyfitnessfood dot com and I will send out your prizes asap!