Hello June – where is the time going? It's the first Saturday of the month, so it's time to sit down with a cup of coffee and catch up. Join in the Ultimate Coffee Date linkup with Coco, Lynda and Debbie.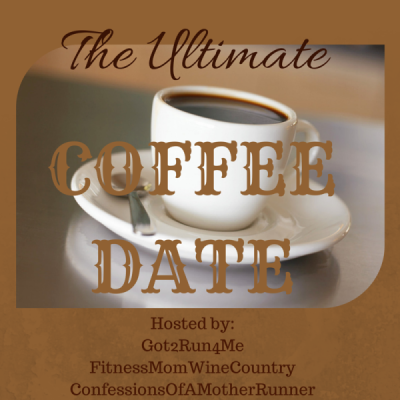 If we were having coffee, I'd definitely have a 2nd cup with you all today since I was up way past my bedtime last night because my daughter had a bunch of friends sleeping over. Sleeping is a term loosely used when teenagers stay the night. Especially last night. They had auditions for their 2nd year on the advanced dance team at their high school. So, the current group of Freshmen wanted to get together and wait for the results to be posted online. Luckily for my personal sleep, results went up at 9pm (instead of 11pm like last year) – so the celebration was early. That didn't really lead to any more sleeping though. Too much excitement. It's going to be another fun year – it's wonderful to see them grow and their friendships develop.
If we were having coffee, I would tell you the despite the little sleep that I had, I still woke up at 5:30. While I sometimes LOVE the fact that I NEVER have to set an alarm on the weekend, sometimes I really wish that my body knew how to sleep in. Last weekend, my daughter had two nights of dance shows, and again I was up super late (for me) after the 2nd one. I was meeting my MRTT group for a run at 7:30 the next morning. I didn't set my alarm, thinking that if I overslept, it was okay and I probably needed the rest. But, I was up in time for coffee and to get ready to meet my group. Same thing today – I am up in time to catch up on my coffee date and still make my 7:30 run date. I don't usually need my mid-week 5:30AM alarm either. But, I will need a nap today.
If we were having coffee, I'd ask if you were a late sleeper or a napper.
If we were having coffee, I'd ask you if your kids were out of school for summer yet. Mine are not. They don't start until after Labor Day each year, so they still have 2 more weeks.
If we were having coffee, I'd switch the topic back to running – as I mentioned, last weekend, I had a nice group run with my MRTT group. It was a bigger meetup than normal and we met at a park with a good loop of a path. Everyone fell into some different paces, but it was really fun to say hi as out paths crossed. It's always nice to see the group growing.
If we were having coffee, I'd tell you about the push up challenge that I'm doing… but I'd also tell you how terrible I am at challenges. I like this one, it's pretty easy to get in each day – except for yesterday. Yep, Day 5 and I didn't do it. Day 6 however is a rest day, so I'll be a bad challenge follower and skip the rest day to catch up.
If we were having coffee, I'd tell you about my coffee exercise routine at work each day. Instead of bringing my phone into the kitchen and messing around while my coffee brews, I do tricep dips on a chair. In the time it takes to make my coffee, I get it 10-12 tricep dips and I do that 2-3 times every day. (it's not that I drink that much coffee, I just hate cold coffee and make multiple trips to reheat it – and I do have a coffee warmer thing, it still isn't hot enough). I had been doing incline pushups on the table, too, but since I started my pushup challenge, I'm just sticking with tricep dips. I feel confident enough that this is a new habit, since I've been doing it for about 4 weeks now. I've still been able to get in this #wycwyc exercise without being found out by my coworkers. I'm not sure why I feel the need to be secretive about it. But, it's working and I'm sticking with it.
If we were having coffee, I'd ask you if you sneak in any exercise during your day.
And now my coffee cup is empty and I still have a little time to get this published and read some other blogs before meeting my running partner. YAY for being up early. And I'll leave you with a cute dog picture.